Posted July 10, 2017
Bayco Products Nightstick Dual-Light Flashlight
Bayco Products announced the new Nightstick X-Series XPP-5422GMX Intrinsically Safe Dual-Light Flashlight with Dual-Magnets.
---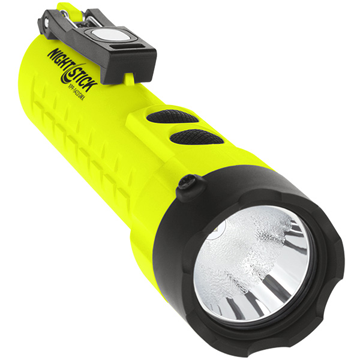 Rated at Class I, Division 1, Zone 0 Intrinsically Safe with cETLus, ATEX and IECEx global certifications, the new Nightstick XPP-5422GMX ushers in a new era of high lumen performance lighting for those who work in hazardous environments where explosive gases and dusts may be present.
New model XPP-5422GMX has a segment leading 210 lumen LED flashlight beam that is distanced rated at 187 meters (613+ feet) with 14 hours of usable run time. A secondary 130 lumen unfocused LED floodlight integrated into the housing perpendicular to the flashlight beam (towards users feet) has a runtime of 20 hours. By combining the two independent flashlight and floodlight beams together in dual-light mode culminates up to 285 lumens for up to 10 hours of total overall run time.
Constructed from engineered polymer, the high-visibility green housing with black bezel and black pocket clip are designed and then ANSI rated IP-67 to be both dustproof and waterproof. Additionally, two integrated magnets located in the base of the handle and the pocket clip, provide for almost limitless hands-free usage. Power comes from 3 AA batteries.
"We put more lumens where it is ultimately needed most, and that says a lot about our commitment to remain and further separate our Nightstick brand as the innovation leader in safety rated lighting" says Russell Hoppe, marketing manager for Nightstick. "The new Nightstick XPP-5422GMX takes a high intensity flashlight and combines it with a second downward facing unfocused floodlight to emit a whopping 285 lumens that maximizes safety in all directions, not just in front or below you. More lumens along with more features and functions are changing the safety lighting paradigm."