Bio-Circle industrial parts cleaning systems
Bio-Circle, a division of Walter Surface Technologies, launched three new bio-renewable parts cleaning systems to its portfolio of products: CleanBox Compact S, CleanBox Maxi, and the CleanBox Mega.
---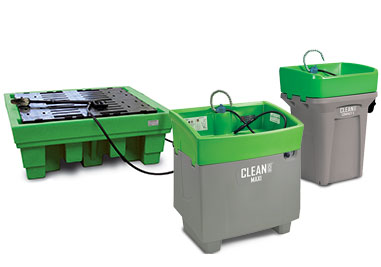 These new systems bring Bio-Circle's eco-innovation to larger industrial parts washing processes.
The ergonomically designed units range in size to ease cleaning and degreasing regular, large, and over-sized industrial parts. Designed specifically for use with Bio-Circle's water-based cleaning agents CB 100 and CB 100 ALU, the CleanBox parts washers enable companies to cost-effectively replace toxic solvents with a safer alternative and improves cleaning efficacy in virtually any type of MRO shop or production-process.
"The addition of these new parts washing systems is yet another testament to Bio-Circle's mission of "Making Green Work" by creating products that help our customers work better and safer," said Patrick Lapointe, vice-president of research and development, at Walter Surface Technologies. "These new systems, paired with our CB 100 line of aqueous cleaning solutions, help improve the health and safety of workers by minimizing dangerous chemicals. Companies can reduce their consumption costs, and eliminate the need for expensive, hazardous waste removal and ventilation equipment associated with using toxic solvents".
The new CleanBox parts washers are commonly used in busy MRO environments and in transport fleet maintenance facilities to clean large parts. Part washers are also commonly used in production facilities to clean large manufacturing equipment.
CleanBox is available in three sizes to meet different requirements, ranging from the medium-sized CleanBox Compact S, the larger CleanBox Maxi, and super-sized CleanBox Mega. The Compact S and Maxi are available in heated versions to increase cleaning efficiencies, and non-heated versions for use at room temperature. The systems' robust bodies withstand rugged manufacturing environments and are designed with ease-of-use and ergonomics in mind. The CleanBox Mega is designed to handle extremely large parts or to facilitate cleaning multiple large parts at once. The system includes a foot-petal activation flow-through brush with a funnelled hose to supply cleaning product while brushing.