Posted November 7, 2019
Steel City Trowels by Bon
Bon Tool Co. expanded its offering of contractor-grade hand tools with a line of professional finish trowels.
---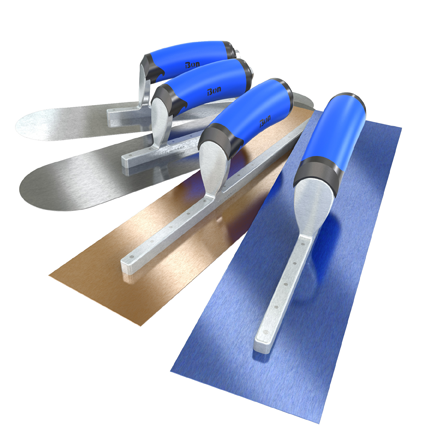 The new trowels are marketed under the brand name Steel City Trowels by Bon. Over 200 new trowels are in production covering all of the most popular sizes in demand for concrete and plaster/stucco work.
The Trowels Feature:
• Highest grade finish trowels available
• Lightweight & durable aluminum shank
• Premium blade materials
• Precision ground
Steel City Trowels are produced to the highest quality standards, setting a superior performance standard in the marketplace. Bon's new trowels feature an industry exclusive rivet system in which the aluminum shank is attached to the blade utilizing two copper rivets. This provides maximum strength and durability.
"It is a tool that has been relatively unchanged for decades to the naked eye, but improvements in manufacturing equipment, riveting systems, hardening and tempering, and ergonomics gave us an opportunity to further improve on one of Bon's most sought after product lines. At Bon, we are all about continual improvement, and we are proud to see these top of the line trowels rolling off the production line right here in the Steel City, Pittsburgh," said Tom Harford, engineering manager at Bon Tool.
Bon Steel City Trowels are available in four blade materials which are of the finest grade and precision ground: Golden Stainless Steel; Razor Stainless Steel; Blue Steel; and Carbon Steel. Options include square end or round end, short or long shank. The wide variety of available styles and sizes are equipped with choice of Bon's patented Comfort Wave or Camel Back Wood handle. Both handle options are ergonomically designed for comfortable, all day use.