Posted May 30, 2017
Bonomi North America three-piece ball valves
Bonomi North America introduced a new line of automation-ready, full-port three-piece ball valves for high temperature and pressure industrial applications where safety is a primary concern.
---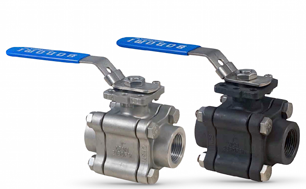 The new 630 (Carbon) and 730 (Stainless) Series valves conform to wall thickness and structure requirements of ANSI 16.34 and ANSI B1.20.1.
The new valves are available in sizes ¼-inch to 4 inches. They are rated to ANSI Class 900 through 2 inches and Class 600 from 2-1/2 through 4-inches. High-temperature TFM-4215 seats are standard. Grounded 316 stainless steel ball and stem are also standard. The 630/730 Series is Fire Safe to API 607-6th Edition.
Both the 630 and 730 Series are rated to 1500 psi in 2-1/2 through 4-inch sizes. Carbon steel models are rated to 2220 psi in sizes ¼-inch to 2 inches. Stainless steel models are rated to 2160 in ¼-inch to 2-inch sizes.
They come standard with ISO-5211 stem and direct-mount actuation pad to simplify automation. They are perfectly matched to the company's Valbia brand electric and pneumatic actuators. As a package, Bonomi valves and actuators offer the best automation performance in the industry.
A latch-lock handle is standard equipment on the 630/730 Series. Spring return handles are optional. Other options include oval handles, fugitive emissions bonnet, V-ball, seats in Delrin or PEEK, and body materials of Hastalloy, Alloy 20 or Super Duplex. Threaded end connections are standard. They are also available in socket weld (Series 631/671) and butt weld (Series 632/732).