Posted October 16, 2019
BORA Tool straight edge system
BORA Tool, a manufacturer of tools, woodworking and workshop accessories, announced the release of its brand-new straight edge system — NGX Clamp Edge.
---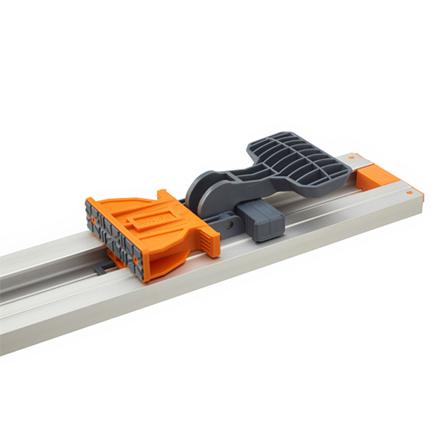 This contemporary and easy-to-use system features simple one-sided adjustability and accessories that make it extremely quick and easy to line up your straight edge, secure it, and make precise cuts every time with a variety of power tools.
The NGX Clamp Edge is available in multiple lengths with the ability to cut up to 100 inches. Contractors, carpenters, and serious woodworking enthusiasts can minimize wasted time and material at an affordable price. It's an ideal solution for industrial or home use and can be easily transported. Users will further benefit from the fact there is no cumbersome setup from using the extremely accurate NGX Clamp Edge.
Available accessories for the NGX system include the Pro Saw Plate Guide ($59) and T-Square attachment ($29) accessories, which are sold separately. Both allow users to experience track-saw like results with a circular saw, ensuring every cut is clean and smooth. Additionally the non-chip strip eliminates tear-out and chipping of the wood.
"The NGX Clamp Edge System addresses three major issues in the straight edge market: difficult setup, crooked and messy cuts, and price," said Rod Bonham, product manager for BORA Tool. "It's easy to set up, it delivers accurate cuts and reduces tear-out, and it's priced so that anyone can afford it. It strikes the right balance so woodworkers of all skill levels can get professional-level cuts every time."
Key features of the BORA Tool NGX Clamp EdgeTM System include:
• Clamping end moves with handle for easy adjustability from one side
• Locking handle grabs work surfaces for secure grip that won't budge
• Easily increase length up to 100 in. with aluminum extensions
• Made of heavy-gauge, rigid aluminum for extreme durability
• Use with circular saws, routers, jig saws and other portable power tools