Posted February 17, 2022
Brass Knuckle Vader Combo
Foul, nasty, or painful debris. Spark. Liquid sprayback. All can slow the most seasoned employee and, worse, bring the threat of occupational injury. So, what protection do workers want on their face when the situation hits the fan?
---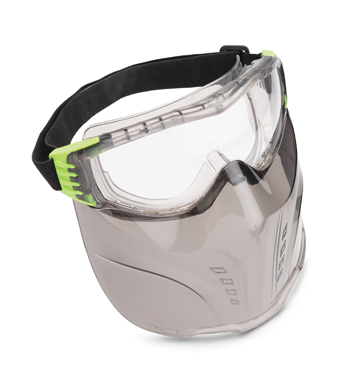 Not a standard goggle that leaves the rest of their face exposed. Not a traditional face shield, with huge gaps that are easily penetrated and allow major neck exposure.
The answer is Brass Knuckle Vader Combo, the goggle and face shield in one, with industry-leading BK-Anti-Fog for the best visibility available. Its integrated face shield offers 180-degree peripheral vision and face coverage. Ultra-soft conditioned rubber forms a splash barrier. Because the face shield isn't attached to a hard hat, it provides unprecedented mobility and visibility — the shield goes wherever the wearer's head goes.
Brass Knuckle has created a product primer to help industry vets more accustomed to old-style face shields better understand the differences inherent in Vader Combo. Readers are encouraged to download the fact sheet and watch the BKTV video of it at work in real-world conditions.
BK-Anti-Fog exceeds the industry's most stringent anti-fog standard and makes Vader Combo the first choice in face protection for construction, grinding, water and wastewater, jan/san, or any application with sprayback that can cause lens fog. The ANSI-rated, military-style splash goggle also includes a durable anti-scratch treatment and is D3 rated for droplet and splash protection. The built-in venting system helps reduce the potential for moisture buildup, helping to maintain clear vision.
If a job exposes its workers to any kind of wetness or debris being thrown into their faces, the Vader Combo brings the necessary protection. It protects from the sun, from impact, from splash—and even from dangerous, temporarily impaired vision caused by fog.