Posted July 27, 2022
Brass Knuckle knee pads
When jobs literally bring workers to their knees, appropriate knee pads are critical. It's about a lot more than comfort, too. It's about protecting against musculoskeletal disorders (MSDs) and extending careers.
---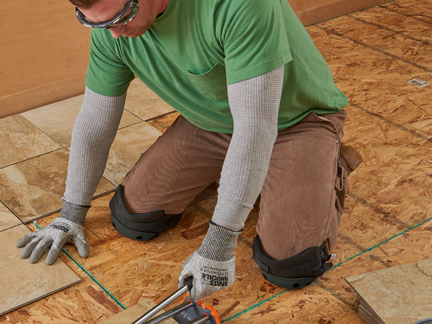 Jobs that rely on kneeling to perform tasks – think construction, roofing, masonry, and others – can put workers at significant risk for MSDs. According to the Bureau of Labor Statistics, MSDs are the most common injuries reported in these occupations. Personal protective equipment (PPE) in the form of knee pads can help reduce the risk of injury and minimize joint fatigue. Brass Knuckle®, an innovative leader in PPE, offers two levels of knee protection with BKKN100 Light-Duty and BKKN200 Heavy-Duty.
Brass Knuckle BKKN100 Light-Duty is an ethylene-vinyl acetate (EVA), cushioned, and adjustable knee pad. One-size-fits-all for convenience, a single strap with hook-and-loop closure easily customizes fit to keep the pad in place for hours of lightweight comfort and protection.
Brass Knuckle BKKN200 Heavy-Duty provides all-day protection with a hard, contoured polyethylene cap. The knee pad conforms to the shape of the knee cap to enhance patella stability and reduce risks of impact and injury. It's high-level protection for tough jobs. The rounded, abrasion-resistant cap allows for safer pivoting and heavy-duty work on the knees while foam padding throughout maximizes wearer comfort. It also is one size with an adjustable strap to keep the pad where it should be.
Both knee pads offer choice by providing excellent protection, flexibility, and comfort suited to light-duty or heavy-duty applications. Ideal for working while kneeling on the ground or on hard surfaces and for impact protection in every industry, the Brass Knuckle line helps ensure excellent protection for cement work, flooring installation, roof work, and more.