CRC Industries industrial apps
CRC Industries Industrial Division introduced two new mobile apps for the Industrial & Electrical Markets – CRC EZ Cross & CRC EZ eCatalog.
---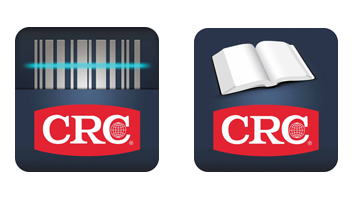 The CRC EZ Cross App is a competitive cross reference app that allows the user to scan the UPC code or enter the part number of a competitive MRO chemical product, resulting in the corresponding CRC product match. CRC EZ Cross provides detailed product specifications, as well as links to SDS, TDS and more! The application enables the user to view and email CRC product documentation; mobile print capability with iTunes app only.
Features include:
UPC scan or manual entry of Competitive Part #
Detailed search on CRC product Specifications & Documentation
Product Documentation in PDF format (multi-lingual)
In-App Email/Print function for PDF documentation
Links to CRC Industrial web site for additional information on CRC products & programs
Available in the App Store & on Google Play.
The CRC EZ eCatalog App is a comprehensive cataloging tool that allows the user to search through the Smart eCat version of the CRC Industrial MRO Catalog. Flip through the virtual catalog and browse by product category or search directly by part number to instantly view product information & Safety Data Sheets (SDS).
Features include:
Product News – Find out what's new from CRC
Videos – Learn more about CRC solutions and see CRC products in action
Resource Links – Find Sales Contacts, Literature, Where to Buy and Much More!
Contacts – Reach out to CRC via email, visit our web site or Follow Us on social media
Available in the App Store, for iPad only.