CRC Industrial Hand Cleaners
CRC introduces Industrial Hand Cleaner, a pH balanced cleaning formula fortified with skin conditioners to help sooth raw, rough hands.
---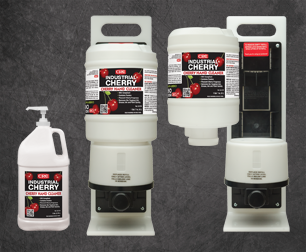 It contains fine-grade pumice which helps clean the toughest dirt, grease, resin, ink, oil, paint, and glue from hands but won't dry out skin.
CRC Industrial Hand Cleaner is biodegradable, VOC compliant and contains no harsh solvents. Use with or without water. Just apply a small amount of product to hands, rub gently and rinse with water. If no water is available, wipe hands after use with a clean cloth or paper towel. Available in either Cherry or Grape scented.
CRC Industrial Hand Cleaner is available in a 1 Gallon Hand Pump Bottle
(part #SL1218 Cherry scented, part #SL1220 Grape scented.) Also available in a convenient Wall Mounted Unit (part #SL1222) which holds a 1 Gallon, 7 Ounce Refill Bottle (part #SL1219 Cherry scented, part #SL1221 Grape scented.)
CRC Industries manufactures a complete line of industrial specialty chemicals including: cleaners, degreasers, lubricants, corrosion inhibitors and paints. The company markets its products through electrical and industrial distributors nationwide. CRC Industries is certified to ISO 9001:2008 standards.