Posted April 6, 2017
Champion Brute XLT Tapper
Champion Cutting Tool launched its new Brute Platinum XLT Tapper, designed for high production tapping.
---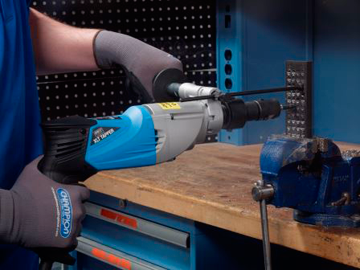 "We are proud to introduce this power tapping solution as a complement to our high performance, high speed taps. Now, operators can tap over 10 times faster than hand tapping. High tech features include: automatic reverse and pivoting tap collet for fast, trouble-free alignment resulting in fewer broken taps. This is especially helpful on job sites where thousands of holes need to be threaded. We are looking forward to saving users time and money on the job," said president Lowell Frey.
The Brute XLT Tapper is easy to use, powerful and lightweight. Controlled speeds allow operator to thread perfect holes every time. With safety in mind, the tapper was designed with a built-in-safety clutch, reducing injuries in the field.
The Brute XLT Tapper fits all standard square shank taps from #10 up to 9/16" in steel and #10 up to 5/8" in aluminum. Ideal applications include threading steel plate, pipe, decking, angle iron, structural steel and machinery in the architectural glass/metal working industries, MRO, and more.
Optimize performance of your tapper: Use Brute XL22 Spiral Point Taps, 308 High Speed Taps and BruteLube Fluid.