Posted August 29, 2018
Cleco right angle grinders
Cleco, a registered trademark of Apex Brands Inc., introduced its new line of pneumatic Right Angle Grinders.
---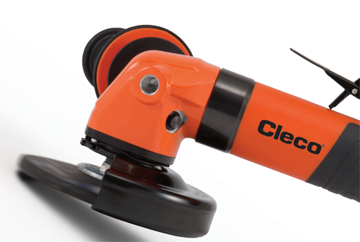 They feature a powerful 1.7 hp motor for increased power and productivity, backed with Cleco's unsurpassed features, quality and durability, at the most competitive prices available.
Cleco's Right Angle Grinders at a glance:
• High-performance 1.7 hp motor delivers maximum power
• Designed to fit all Type 27, Type 27 threaded hub and Type 1 abrasive discs
• Quieter operation with rear exhaust overhose standard
• Ergonomic, anti-vibration handle for increased comfort and less operator fatigue
• Spindle lock for quick and easy abrasive changes
• Dual-layer, high-impact composite housing for extreme durability
• Versatile 270˚ adjustable guard for easy access to tight spaces
Cleco's Right Angle Grinders are designed for rigorous use and long life, containing the features and power that are perfect for the most demanding applications found in foundries, shipyards, machine shops and rail car manufacturing.
"Our industry is centered around making tools that increase productivity and workflow," said Dave Bigg, Global Product Manager, Cleco Production Tools. "Cleco's new Right Angle Grinders have the power you need and the features want, at an exceptional value."