CM latch kits for hoist and rigging hooks
Columbus McKinnon now offers 35 of its most popular latch kits for hoist and rigging hooks in economical, easy-to-order bulk packaging.
---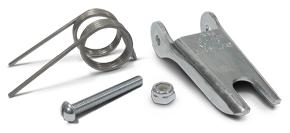 Hoist Latch Kits and Rigging Latch Kits will be available in bulk packages of 50 and 100 units and will feature smart part numbers, making them easy to order.
Columbus McKinnon's new bulk packaging provides customers with cost savings compared to purchasing individual units, plus reduces the order frequency for commonly used latch kits. Bulk packaging also helps to ensure that end users have the most popular items in stock and readily available.