CM Hurricane 360 added to Parts Star program
Columbus McKinnon announced that it has added the CM Hurricane 360 to its Parts Star program.
---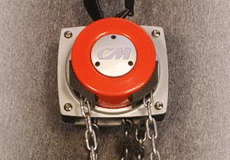 Launched earlier this year by Columbus McKinnon Corporation, the program provides customers with genuine CMCO parts designed to fit the hoist's exact specifications.
CMCO parts are available two ways through the Parts Star Program: Total Repair Kits and Bulk Packaged Parts.
Competitively priced Total Repair Kits contain prepackaged chain and wire rope hoist replacement parts that guarantee Channel Partners will get everything they need to do a complete and professional hoist repair. These kits feature smart part numbers for easy ordering. Discounted bulk packaging is available for most common replacement parts, helping Channel Partners ensure the parts they need are always on hand with less frequent ordering and reduced lead times.
Parts Star Total Repair Kits are currently available for the CM Hurricane 360 hand chain hoist, the CM Bandit ratchet lever hoist, the CM AirStar air chain hoist and Yale Global King and Shaw-Box World Series wire rope hoists. Parts Star Bulk Packaged Parts are available for rigging and hoist latch kits.