Plug'n'Glow string light/inline cordset
Conntek's innovative Plug'n'Glow String Light/Inline Cordset combo provides safe electrical power for tools and accessories, as well as lighting for dark areas.
---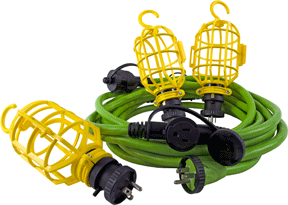 This three-light string kit is extremely versatile, enabling owners to use it as a string light kit or a multi-outlet inline cordset.
Each Plug'n'Glow features Conntek's exclusive Cam-locking collar that locks the cable, light cages and accessories in place. This enables users to quickly change from lights to outlets for plugging in other tools or appliances, while providing extra safety. Each light is detachable for easy storage and have individual on/off buttons as well.
Weather resistant, this cable can withstand temperatures between -58º F to 140º F. The flexible STW 14/3 AWG cord is durable, construction-grade and expandable from 25' to 100' with use of another Plug'n'Glow set.