ContiTech portable hydraulic crimper
ContiTech introduced the portable PC125RCD Hydraulic Crimper for the North American market.
---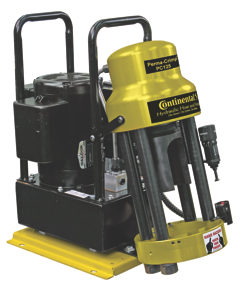 The PC125RCD Hydraulic Crimper is a portable crimper and with its open design, removable pusher and easy-to-use rubber cage dies, is designed for high volume, repetitive use.
"This crimper is packaged for shop service," said Randy Kish, manager of distributor marketing, industrial hose and hydraulics for ContiTech. "It includes the crimper and 1 HP, 110V electric pump on a common base, compressing ring, pressure plate, magnetized die ring pusher, stop/start remote pendant switch, metric micrometer, adjustable coupling stop and adjustable retraction stop."
The unit crimps 2 and 4-wire hydraulic hoses up to 1 ¼-inch inside diameter. The PC125RCD Hydraulic Crimper is equipped with a 1 HP, 110V AC power source, single phase 50-60Hz, electric pump with pneumatic stop/start pendant switch. The crimper weighs 125 pounds and is 20 inches deep x 11 inches wide x 19 inches high.