Coxreels Little Giant LG Series
Coxreels Little Giant LG series is specifically designed for tubing and air/water applications and is perfect for commercial and industrial settings where space is limited.
---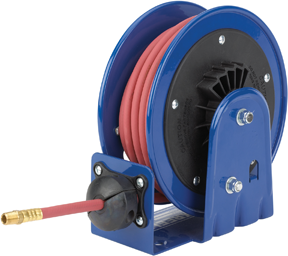 The LG Series weighs only 9 to 13 pounds depending on the model and is 10-5/8 inch in height making it very compact to mount to any horizontal or vertical flat surface.
The reel is equipped with a continuous radius grommet design constructed of bearing grade, unique FDA compliant CoxComposite composite that does not pinch or catch the hose during operation. The reel also features lower pull tension to reduce the chance of stretching the hose and a non-corrosive CoxComposite ratchet hub with self-lubricating bronze bearings for smooth rotation and secure the hose at desired length. The compact and efficient design of this "Little Giant" has the durability and superior features found in every Coxreel.