Posted July 18, 2016
Coxreels 300 Series "Exhaust" hose reels
Coxreels 300 Series "Exhaust" hose reels are designed to enable the extraction of exhaust fumes directly from the source of their emission and maintain the safest workplace air quality.
---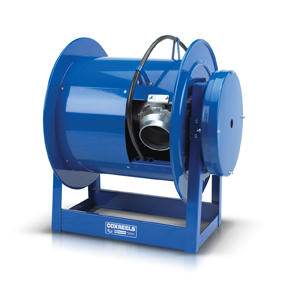 Coxreels exhaust reels conveniently store lengths of large diameter exhaust hose and mount to any wall, overhead, and floor position.
The heavy duty frame on Coxreels exhaust reels is built to provide strength, durability, and stability. The components of this reel are individually powder coated providing excellent resistance in any environment. These reels also feature a panel to easily access the main drum, where the internal ducting is included.
The 300 Series Exhaust reels are ideal for indoor vehicle exhaust removal, vehicle manufacturing facilities, automotive dealerships, fleet service centers, garage settings, and fire stations.