Posted March 6, 2018
Crescent Diamond Tip screwdrivers
Crescent hand tool brand from Apex Tool Group introduced its new Diamond Tip Screwdrivers.
---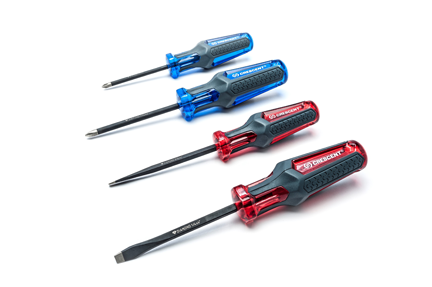 Initially available in Phillips and slotted styles, these screwdrivers offer premium features that will impress professionals and do it yourselfers alike.
The most important feature of these new screwdrivers is their diamond tips. A diamond-infused powder coating gives the tips up to four times the grip of non-coated tips, greatly reducing slippage and cam-out. The handle design features thermoplastic rubber molded over a tri lobe shaped acetate core. The grip and comfort provided by the tri lobe design allows users to apply up to 20% more torque than with more traditional handle styles. The translucent acetate used on the handles is also specially formulated to provide superior impact and UV resistance.
Slotted styles feature square shanks and red acetate handle bases. Phillips styles have round shanks with blue handles. All styles have black oxide blades with laser-etched markings. Size markings on the ends of each handle allow easy identification when carried in a tool belt.
"Users are looking for screwdrivers that will allow them to apply greater torque and get jobs done faster," said Kevin Burnet, product manager. "These new diamond-tipped screwdrivers do all of that."
The new Crescent Diamond Tip Screwdrivers are available as a 4-piece set (Catalog No. CGS4PCSET).