Posted December 22, 2016
Crown RT 4000 Series pallet truck
Crown Equipment Corporation introduced the Crown RT 4000 Series pallet truck.
---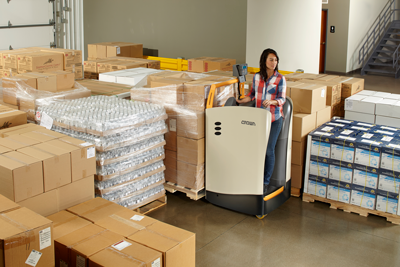 The award-winning pallet truck features a highly maneuverable, compact design ideal for very confined, congested dock and aisle applications.
Whether operators are working on tight docks or in narrow aisles, the Crown RT Series pallet truck's intuitive controls, standard electronic power steering, powerful acceleration and short head length all work together to optimize maneuverability. This flexibility in confined spaces is one of the main qualities that led to the truck winning the International Forklift Truck of the Year (IFOY) Award in the "Warehouse Trucks Lowlifter" category earlier this year. The jury cited the truck's "extremely high productivity in tight spaces" as the deciding factor for the Crown RT earning the award.
"In the warehouse environment where every inch matters, the Crown RT Series allows managers to take advantage of more usable floor space in their facility, without sacrificing essential comfort and control for the operator," said Steve Harshbarger, marketing product manager, Crown Equipment. "The truck is another example of Crown's design approach that puts operators at the heart of the development process while also delivering a product that helps increase productivity both on the dock and in the warehouse."
The five points of contact the operator has with the Crown RT Series, combined with the truck's four-point suspension in contact with the floor, gives operators the stability they need to quickly complete the task at-hand. The proven left-hand steer tiller design, along with easy-to-use traction and lift/lower controls that match the intended truck direction, deliver smooth response operation that helps minimize shoulder and arm fatigue. The wraparound, soft foam lean pad provides operators with a comfortable surface, especially during long transport or strenuous applications throughout the shift.
The Crown RT Series features Crown-made AC motors, which are designed to run longer, cooler and more efficiently in demanding applications. The truck's innovative eGEN® Braking reduces the cost of ownership by eliminating traditional friction brakes and reducing the need for maintenance.