DE-STA-CO 8700 series pneumatic lever clamp
DE-STA-CO's new 8700 series pneumatic lever clamp is a lightweight, space-saving alternative to traditional pneumatic toggle and swing clamps, giving fixture builders a reliable option for tight spaces.
---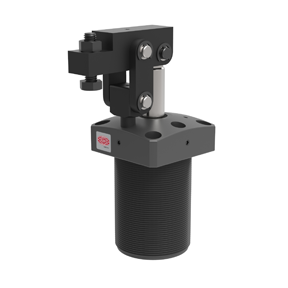 "Space is in short supply on complex welding and assembly fixtures," says Ken Hagan, global product manager for DE-STA-CO. "Although they offer superior holding power, traditional pneumatic toggle clamps are often too large for this type of tooling. Swing clamps are compact, but their rotating design does not work for all applications. That's why DE-STA-CO developed the 8700 series lever clamp, which provides the best of both worlds."
The 8700 series pneumatic lever clamp features an arm that arcs up and out of the way on a single plane. Since the arm does not rotate to the side like a swing clamp, it remains completely within the clamp's footprint while in the open position. This helps to eliminate interference with adjacent components on crowded fixtures.
While it delivers up to 25 percent more clamping force than comparably sized swing clamps, the 8700 series lever clamp does not lock like a toggle clamp. This means it can accommodate materials with differing thicknesses. The clamp's lever design provides a consistent clamping force on materials that have up to 3.8 mm of variation, depending on clamp size.
To further enhance the 8700 series lever clamp's versatility, DE-STA-CO engineers encased the clamping mechanism in a threaded body. This provides users with the option to thread the clamp through an opening in the fixture with optional mounting nuts for easy height adjustment. The 8700 series lever clamp also features standard mounting holes on the upper flange for traditional mounting.
The 8700 series' lever arm can be positioned facing left, right or forward within the same clamp body for flexibility. The body is constructed of hard-coated aluminum, which makes it lighter than traditional steel clamps, while maintaining durability. The 8700 series lever clamp also features a hard chrome piston rod, alloy steel pivot pins, self-lubricating bearings and high-quality seals for enhanced durability.
Four bore sizes are available for virtually any application: 25 mm, 32 mm, 40 mm and 50 mm. Clamping forces vary from approximately 45 lbs. to 170 lbs., depending on the bore size.
"The 8700 series lever clamp fills a gap in DE-STA-CO's previous line of industry-leading workholding products," says Hagan. "Offering versatility, a compact profile and a lightweight body, it is the right clamp for tight spaces."