DENSO handheld barcode terminals
DENSO ADC, the Americas sales arm of DENSO Wave Incorporated announced new BHT-1300-CE wireless and batch, 1-D and 2-D handheld barcode terminals.
---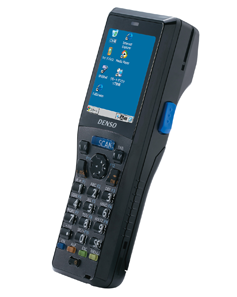 The compact, lightweight devices feature the Windows Embedded Compact 7 operating system, along with a rugged design backed by a long, three-year warranty.
"Our BHT-1300 Series terminals are well known in the industry for being easy to use and reliable, yet affordable," said Fran Labun, vice president, Sales Group, DENSO Products and Services Americas, Inc. "The new BHT-1300-CE models continue that tradition, now with the added choice of a Windows operating system."
DENSO's Advanced Scan PlusTM CCD and area-imaging technology enable faster scanning than lasers. The 2-D models can read codes from any angle within 360 degrees, reducing working time by up to 30 percent. High-speed processors further increase operator efficiency.
Preinstalled software includes a keyboard interface application, wireless setting tool, application launcher and backup tool. Full Windows Embedded Compact 7 software development kits are available to allow creation of additional applications.
Advanced Wi-Fi technology and the latest network encryption protocols ensure fast, reliable and secure data transmission. Direct-connect USB cables increase productivity, while device cradles enable Ethernet, USB or RS-232 communication.