New Deb Stoko Product Range
Deb Group, the world's leading away-from-home skin care company, announced the launch of the Deb Stoko Global Product Range.
---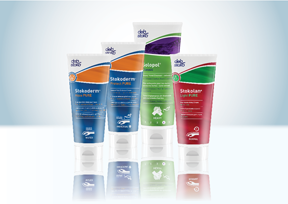 The launch of this new product line follows the acquisition of Stoko Professional Skincare in 2014 by Deb and combines the best of both companies to create the world's greatest occupational skin care program. The new Deb Stoko Global Product Range will serve a wide range of industries including industrial, commercial, food and healthcare.
"With the new Deb Stoko Global Product Range, customers in all market sectors can now rely on one range from one supplier for all of their skin care needs," said Michael Bogdanski, CEO of Deb North America. "This unique range features a striking new identity that is both attractive and professional and fully coordinates into a complete skin care system."
With expertise spread across many countries, the Deb Stoko Global Product Range is backed by the world's largest skin care support team consisting of technical and scientific occupational skin care experts and the strongest research and development team in the industry. The company believes this structure will help bring innovative, market changing products that create real customer benefits and improve skin care standards to new and existing industries.
The Global Product Range is segmented into four action steps – protect, cleanse, sanitize and restore –and incorporates smart new packaging, featuring a color-coded design to encourage compliance and guide users to correct product usage. Additionally, all products are manufactured to global standards for consistency of quality and regulatory compliance and are formulated to respect the environment. The new Deb Stoko product range is a global initiative, starting now with the launch in North America and then across Europe and the Asian-Pacific region during the summer.