Diamond Chain 125th Anniversary Limited Edition Packaging
The Diamond Chain Company announced the release of new, limited edition packaging for its flagship Diamond brand in advance of its December 2015 125th anniversary.
---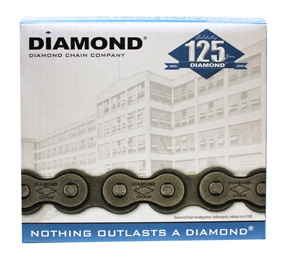 Available beginning in August from select channel partners, the package's front panel pays homage to Diamond Chain's Kentucky Avenue Indianapolis headquarters with a photograph of the building circa the early 1920s. The back panel features a brief history to accompany images of early chain manufacturing operations.
"We felt this was a great opportunity to celebrate Diamond Chain history from a pictorial perspective," said Matt Stoneburner, vice president of sales and marketing. "We have certainly evolved our manufacturing capability since Diamond's founding, but these images offer a rare glimpse into Diamond's photo archives."
In addition to historical photographs, the limited edition box features a special, metallic-blue ink, a trademark diamond-shaped anniversary crest, and the years (1890 and 2015) that span Diamond Chain's 125-year history.