Diamond Chain Duralube LIVE
Diamond Chain Company announced the launch of its newest roller chain series, Duralube LIVE, a self-lubricating chain series with extended service life.
---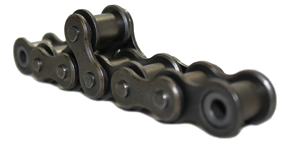 "Our goal throughout the product development cycle was to deliver improved wear life," said Matt Stoneburner, vice president of sales and marketing. "And with results that show a ten percent improvement over existing product alternatives, we feel we've accomplished what we set out to achieve."
The Duralube LIVE series is Diamond's second generation of self-lubricating roller chain. Built from Diamond's original Duralube product platform, improvements include free-turning rollers and case-hardened pins, both of which help to extend service life for wear-based applications.
"There are trade-offs in moving to a free-turning roller. While the larger one-piece bushing and roller of Diamond's original Duralube series did retain more lubricant," explained Stoneburner, "the introduction of the free-turning roller delivers all important improvements in wear performance while still helping to maintain a cleaner job site."
New to the Duralube LIVE portfolio is the addition of food-grade lubricant. Featuring plated components for superior corrosion resistance and cleanability, this product option is ideal for food industry applications.
Duralube LIVE is available for single strand ANSI sizes 40 through 80 beginning this November. Additional product sizes, attachment chain, and Class I and Class II matched lengths will be available beginning January 2015.