Posted February 3, 2021
Dormer Pramet milling cutters
Dormer Pramet offers economical face milling of stainless steel with the new Pramet cutters and inserts.
---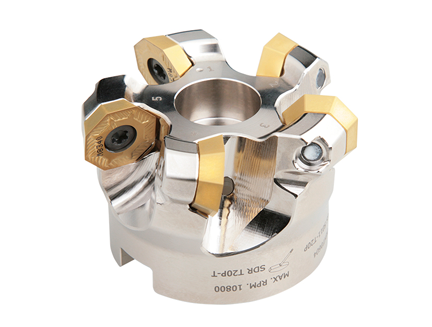 The Pramet stainless steel milling range offers versatility and productivity. Insert styles include OEHT (octagonal), REHT (round) and XEHT (wiper). The versatile design of the new double positive 45° milling cutter (S450E) allows the same cutter body to be used with both octagonal inserts for face milling and round inserts for face/copy milling applications as well as supporting internal coolant delivery.
Suitable for use on machines with limited power, the combination of new inserts and cutter delivers high metal removal rates with low cutting force and reduced chatter.
It features positive axial and radial face angles for good cutting action and directing chips away from the work-piece. Available in a variety of diameters, the S450E performs well with fragile work pieces, unstable fixturing or preventing stainless steel work hardening.
Utilizing eight cutting edges, the highest number available for positive inserts, the new OEHT (octagonal) insert features four new sharp, positive geometries for various cutting conditions:
• MF is for finishing applications in stainless steel, mild carbon steel and non-ferrous metals
• MM is for machining stainless steel in medium cutting conditions
• M is with stabilizer - suitable for difficult cutting conditions in materials such as carbon steels and harder stainless steel
• FA is for finishing and light to medium machining of non-ferrous materials
The new geometries offer reduced cutting forces and increased durability for machining with or without coolant.