Posted October 5, 2016
Dormer Pramet launches PrecisionLight program
Precision Twist Drill brand of cutting tools has represented both reliability and quality to its broad user base.
---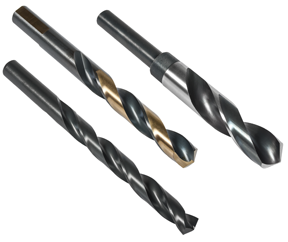 This standard continues with the introduction of a selection of HSS drills designed specifically to meet the needs of the maintenance and repair professional. PRECISIONLIGHT HSS drills will provide affordable reliability together with a level of service and support consistent with that of the balance of the Dormer Pramet broad product offering.
Including screw machine, jobber, mechanics lengths and reduced shank drills, the PRECISIONLIGHT program represents another strong move by Dormer Pramet in support of their "one-stop-shop" philosophy while continuing to reinforce their established tradition of brand quality.
This new program of HSS drills has been developed to provide both versatility and performance in a variety of materials and includes general purpose drills with conventional 118 degree point geometries as well as 'tougher' styles with 135 degree point self-centering split points for more challenging applications. In general, the new PRECISIONLIGHT product range will cover most ferrous applications with drills suitable for use in portable drilling, drill presses and other operations.PrecisionLight_Drills.jpg
The focus products of the PRECISIONLIGHT program are the WORKLIGHT range of drills. Their unique design is optimized for ease of use and reliability and includes a new flute geometry that improves chip evacuation, provides better coolant flow to the point and reduces the effort required to push the drill through the workpiece. The WORKLIGHT drill design is offered in 5 series - 332HD, 333HD, 312SM. 342SDT and 344RS.
The complete program also includes PRECISIONLIGHT Drill Sets which include a range of sizes available in most styles.