Duracell AA batteries said to last longer
After extensive testing and analysis, Duracell Professional, the business-to-business division of Duracell, has announced a new claim for its Quantum line of alkaline batteries.
---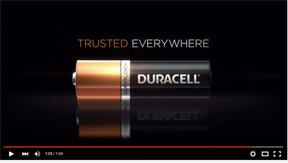 Duracell Quantum batteries have been shown to last longer in 99% of devices vs. the next leading competitive brand.*
*AA size. Based on ANSI performance tests. Results vary by device & usage patterns. Next leading alkaline based on market sales data.
This new claim reinforces the brand's position as the source for high-performance, high-quality, and reliable power solutions for professional users.
New marketing initiatives from Duracell are backing up the new claim and reinforcing the brand's market leadership. Two of these, the commercials "Nightlight" and "The Teddy Bear," have become viral video sensations. "Nightlight" features free mountain climber Kevin Jorgeson, who made headlines for his climb of El Capitan's Dawn Wall at Yosemite. He only trusted Duracell Quantum to power his climbing at night. "The Teddy Bear" is about the true story of a child who relied on a battery-powered teddy bear to hear her dad's voice while he was deployed overseas.
Both videos have received millions of views on YouTube, and "The Teddy Bear" has received national media coverage on The Today Show, Fox News Edge, US Weekly, Yahoo!, and The Huffington Post, among numerous other outlets.
"We are excited to take this new performance claim out into the market," said Paul Schacht, Duracell Professional National Sales Manager. "Our batteries are the product of enormous investments in time and resources, and each battery goes through a stringent quality assurance process to ensure they provide our end users with the highest quality power. This new claim, and the tremendous marketing efforts backing it up, are a great opportunity to further educate our users about the superiority of Duracell batteries."