Posted April 18, 2018
Dynabrade abrasives catalog
Dynabrade introduced its new abrasives catalog.
---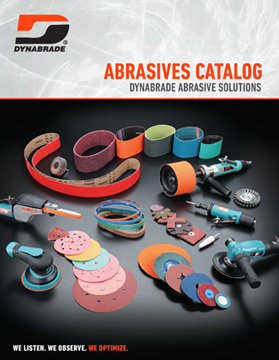 Included in the offering are aluminum oxide, zirconia alumina and ceramic abrasive belts for use with Dynabrade's line of abrasive belts tools. Various size belts are offered for use with the Dynafile, Dynafile II, Dynabelter and various other abrasive belts tools.
Additionally, aluminum oxide and silicon carbide sanding discs are available for Dynabrade's line of palm-style and two-handed random orbital sanders. Various diameter discs are offered
In addition, scalloped-edge abrasive discs, locking-type discs, flap wheels, fiber discs, microfinishing rolls, sanding stars, abrasive bands, flap wheels, cut-off wheels and Type 27 depressed center grinding wheels are also offered. A free abrasive catalog is available by contacting Dynabrade. Products are in stock and ready for immediate shipment. Additionally, no-obligation demonstrations are available on any tools, accessories or abrasives.