Posted May 30, 2017
Dynabrade Extreme Random Orbital Sander
Dynabrade introduced the New Dynorbital Extreme Series of Random Orbital Sanders.
---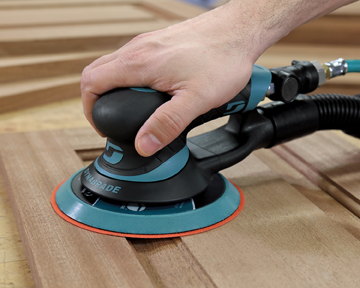 The Extreme Random Orbital Sander is an American made air tool delivering the best horsepower rating of all industrial orbital sanders in its class, the company says. Available in 5-inch and 6-inch diameter models, the tool is available in Non-Vacuum and Central Vacuum models. A 3/16-inch diameter orbit is offered for general sanding applications. A 3/32-inch diameter orbit is also available for ultra-fine sanding.
The Dynorbital Extreme Random Orbital Sander features an ergonomic design with a tactile soft grip overmold for a comfortable feel. The 12,000 RPM motor features an improved rotor design for enhanced power. The unique motor V Seal protects bearings from contaminates while maintaining lubrication and reducing bearing temperature; resulting in longer tool life. A full range throttle is featherable with no speed regulator eliminating accidental adjustment and loss in RPM.