Dynabrade .4 hp extension die grinders
Dynabrade Inc. introduced a new line of .4 hp Extension Die Grinders.
---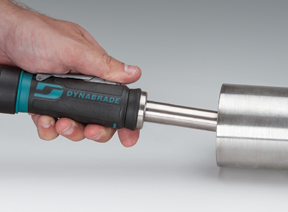 These new air tools allow for efficient work within long pipes, castings, and other places where an extended reach is needed.
The .4 horsepower straight-line air tools are available in either a front or rear exhaust air motor and run at 25,000 RPM. The new tools are available in two different shaft lengths; 3-inch Extension Models or 6-inch Extension Models.
These .4 hp Extension Die Grinders allow the operator to extend into work pieces and reach previously inaccessible areas.
Each .4 hp Extension Die Grinder features a safety-lock lever to prevent accidental start up of the tool. Also, the tools run as low as 72 dB(A) to further reduce sound in the workplace.
The .4 hp Extension Die Grinder powers optional carbide burrs and mounted points for deburring, grinding, etching, cleaning and more. Made in the U.S.A.