Posted December 20, 2017
Dynafile air-powered abrasive belt machine
The Dynafile abrasive belt machine grinds, deburrs, blends and finishes normally inaccessible areas on metal, plastic, fiberglass and other composites.
---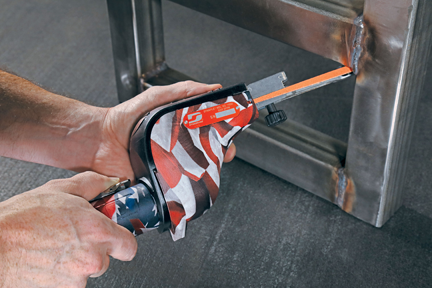 Light corner weld removal and blending of welds are typical applications of this air tool. The patented abrasive belt tracking system built into every Dynafile provides trouble-free operation.
The Dynabrade Dynafile now is available with an American Flag design on the housing The Dynafile uses coated abrasive belts 1/2", 1/4" or 1/8" wide x 24" long. The 20,000 RPM tool weighs only 3 lbs. The lightweight, composite housing reduces vibration and is thermal insulated to prevent cold air transmission to the operator's hands. The air motor is also adjustable to the most comfortable throttle lever position.
A line of Dynafile accessories are also available which include coated, non-woven nylon and cloth polishing belts, Dynaswivel air-line connectors, Dyna-Jet In-Line Blow Guns, motor tune-up kits, tool bench mounts and more. Made in the U.S.A. outside of Buffalo, New York.