Dynabrade re-introduces National Detroit air tools
Dynabrade Inc. introduced the restoration of an American Classic, the National Detroit Legacy Series of Air Tools.
---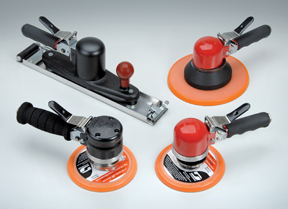 Dating back to 1939, National Detroit has set the standard for high quality American-made pneumatic tools for the automotive industry. Dynabrade now continues this tradition with the introduction of the National Detroit Legacy line of tools, manufactured in the USA.
The product offering includes:
5" diameter and 6" diameter DAQ Dual-Action Sanders. Ideal for use in sanding filer and primer, removing rust and scale and featheredging.
5" and 6" diameter ELZ Dual-Action Sanders. For fine finishing, sanding drop coats, sanding base coats and polishing operations.
8" diameter Gear-Driven Sander. At 800 RPM, the tool is ideal for stock removal, leveling, paint removal and sanding body filler.
FB8 Long Board Sander. At 6,000 RPM, features a 2-3/4" x 16" Rubber Sanding Pad. Excellent for Leveling, Sanding Body Filler and various blending applications.