Posted May 8, 2019
Emuge thread mills
Emuge Corp. has introduced advanced Threads-all ZGF-S-Cut Solid Carbide Thread Mills featuring multiple teeth, a helical flute form and multi-layer TiAlN T46 coating.
---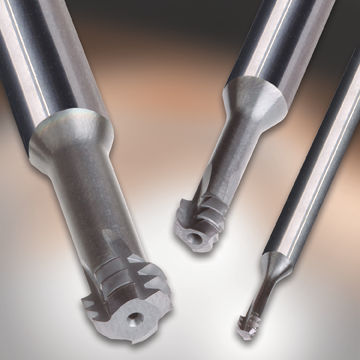 The new ZGF-S-Cut Thread Mills increase tool life over 10 times more than conventional tools and produce precise threads in exotic materials including Inconels, nickel based superalloys, monel, titanium, 420 stainless steel and more.
"To efficiently thread challenging, expensive materials we are very pleased to offer our new ZGF-S-Cut Thread Mills," said Marlon Blandon, thread milling product manager, Emuge Corp. "The new thread mills are an ideal solution when threading Inconel and other high temperature alloys because the heat is carried away during chip evacuation and does not stay with the part. The new tools are excellent for producing finer threads in aerospace applications such as engines, connecting rods and landing gear, as well as in other components comprised of exotic materials."
For increased tool life and productivity, Emuge ZGF-S-Cut Thread Mills have multiple teeth, the first acting as a rougher and the next two teeth performing finishing. By dividing functions into three cutting edges, speeds and feeds can be increased, and threads can be produced in a single pass. A 10° left-hand helical flute form and chamfer geometry combine to optimize chip evacuation in the forward direction and add strength to the cutting teeth for enhanced tool life and process security. And for increased tool strength, Emuge ZGF-S-Cut Thread Mills have multiple flutes.