Posted October 30, 2019
Emuge slim line chucks for 5-axis milling
Emuge Corp. expanded its line of FPC Milling/ Drilling Chucks products to include Slim Line models that are designed to enhance 5-Axis machining productivity and versatility.
---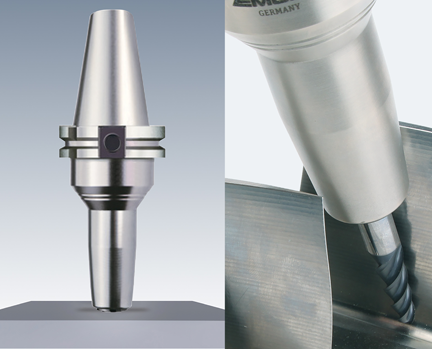 Available in the 1/8" to 9/16" (2 mm - 14 mm) size range (FPC14), the compact, slim design with tapered shape enables easier access to the work, especially in confined areas and for challenging angles. Click here for more information.
"As workpiece complexity grows and 5-Axis machining prevalence increases, innovative solutions in tool holding such as our new FPC Slim Line Chucks, help maximize machining productivity while reducing cycle times, downtime and allowing for improved holder clearance conditions," said Dan Doiron, manager, milling products.
Emuge high precision/ performance FPC Mill/ Drill Chucks provide unprecedented rigidity, vibration dampening, concentricity, machining speed, and tool life versus conventional chuck technologies for milling and drilling applications.
Featuring the world's only chuck with a 1:16 worm gear, the Emuge FPC Chuck's patented design delivers three tons of traction force. The unique design and body provide 100% holding power for maximum rigidity, and the collet-cone assembly absorbs virtually all vibration for maximum dampening.