Posted December 21, 2017
Emuge carbide step drill program
Emuge Corp. announced the launch of a carbide step drill program that features new drill–chamfer tools available from stock in real-time online.
---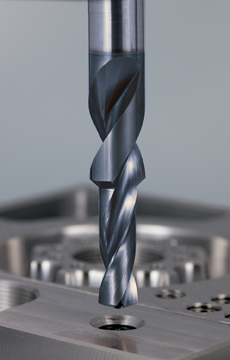 Users can quickly and easily select from a full range of stock sizes, including the ability to order customized lengths available in less than four weeks.
"Our new EF Step Drill Program offers the industry's largest stocked standard offering of cut and form tap diameter step drills, along with a quick delivery program for non-stocked lengths, providing unprecedented convenience for our customers' full range of chamfering/ holemaking needs," said Marlon Blandon, thread mills product manager at Emuge Corp.
The EF Step Drill is a high-penetration rate solid carbide drill that drills and chamfers in one operation, saving time and providing a more accurate hole-to-chamfer location and the most optimal hole preparation for tapping or thread milling. Tools feature a double margin design on the minor diameter for the roundest threaded hole size, and the web construction is adjusted for each diameter for maximum chip evacuation efficiency.
The EF Step Drill stock program includes an extensive range of sizes from 2.8mm to 15.5mm minor diameter, UNC/UNF (No.6-32 to 5/8" – 11", M/MF (M3 to M18), and a full size range in 2XD and 3.5XD lengths. Tools are coolant-thru, 4-margin design with TiAIN-T14 coating, can cut a wide range of materials and are available in cut or form thread diameters.