Exact Pipe Tool
Exact Pipe Tools Inc., the U.S. wholly owned subsidiary of Finland-based Exact Tools Oy, recently established its U.S. presence.
---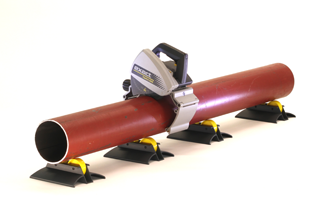 The company manufactures and sells a line of steel, ductile iron and plastic pipe-cutting machines that employ a unique method for cutting pipe.
Currently, Exact Pipe Tools is adding to its distribution network and building its growing sales force throughout the United States, Canada and Mexico.
"We are excited to enter the U.S. market with this innovative product line. Currently, there is no other competitive product like it available," said Mike Stone, CEO, Exact Pipe Tools Inc. "As we expand our distributor network, we are continually looking to add professional distributor partners that are eager to support the Exact Pipe Tools product line."
The award-winning, patented PipeCut line of pipe-cutting systems is a fast, easy, safe and precise way to cut pipe and bevel pipe (Model # P400) ranging in diameters from 0.6 inch through 40 inches, for steel, ductile, nodular cast iron, stainless steel, copper and plastic (PE, PP, PVC). The system eliminates many of the problems associated with pipe cutting, and enables a cost-effective solution for fast, clean, straight and safe cutting.
With seven different models available, the Exact Pipe Tools product line is designed for the professional industrial pipe installer in a variety of applications including power generation, refinery and chemical plants, hospitals and facilities, home building and renovation, shipbuilding, pulp and paper, water and waste water systems, heating and cooling systems, gas installations and maintenance and repair.