Posted March 29, 2017
Festool launches Airstream cordless battery
Festool is launching its new AIRSTREAM battery technology, which it says will reduce charging times by up to 60%.
---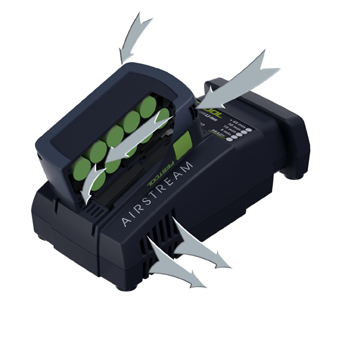 The new AIRSTREAM charging system pulls cooled air through the air intakes of the battery pack and channels airflow through the cells and into the charger while heat from both the battery and charger are exhausted to the side. Though the AIRSTREAM system is comprised of a newly designed, air-cooled charger and 18 V battery line, with up to 6.2 Ah capacity for Festool's entire line of 18 V power tools and products, the new chargers can also charge Festool's existing Li-ion battery packs.
"While many manufacturers are only focusing on bigger battery capacities, which require longer recharge times, we are focusing on greater capacity and reduced charging times" says Leo Zirkler, Vice President of Marketing. "The new Airstream charging system not only has a higher capacity battery available (6.2 Ah), it also provides a huge reduction - up to 60% - in charging time."
Whether on the jobsite or in the shop, today's high-demand cordless tools can drain batteries very quickly. As battery capacities have increased over the years, so has the charge time. This leads to prolonged downtime waiting for batteries to be ready again. This problem is further compounded when batteries get overheated as most chargers can't charge a hot battery without the risk of damage. The Airstream charger not only provides a higher charging current (8 amps), but also a unique cooling system that reduces cooling time while providing faster recharge time. Overall this leads to a time savings of over 60 percent.
The revamped 18 volt platform includes AIRSTREAM Charger SCA 8 and 5.2 Ah and 6.2 Ah batteries. In addition, a 6 amp charger (TCL 6) and a compact 18 volt battery (3.1 Ah) are also available. Either new charger is backwards compatible for previous generation Lithium Ion battery packs.