Posted September 10, 2018
Festool CT CYCLONE anti-static pre-separator
Festool plans an Oct. 1 launch of the new CT CYCLONE, an anti-static, pre-separator for large debris and coarse dust that is designed to be used with a Festool CT Dust Extractor.
---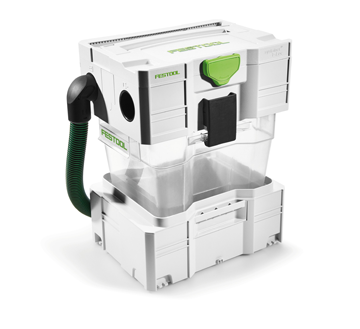 By separating large particulate before it reaches the dust collector, users can increase the efficiency and cost effectiveness of their portable Festool dust collection systems by reducing the number of filter bags needed. The CT CYCLONE also reduces the overall dust load on the main dust extractor filter which results in consistently high suction power throughout the work process. When used together, the CT CYCLONE and CT Dust Extractor form a three-step filtration system for dust and debris.
"For craftsmen who work with large volumes of dust and debris, the CT CYCLONE pre-separator is the simplest answer for further increasing the efficiency of our CT Dust Extractors," says Eugen Gassmann, Festool Vice President of Marketing. "CT CYCLONE minimizes costs by decreasing the number of filters and dust bags that you'll need to keep your CT running smoothly."
CT CYCLONE can be used with all Festool CT 26/36/48 dust extractors and optimum usage is achieved with tools and applications which create high levels of dust and particulate. It separates and collects coarse and fine dust before it reaches the mobile dust extractor.
The dust-heavy air that is drawn in, is swirled into a spiral movement in the cyclone, causing the dust particles to hit against the wall of the cyclone and, due to the gravitational force, fall into the collection container.
The CT CYCLONE product video can be seen here.
Features of the CT CYCLONE include:
• Tool-free assembly and attachment means that users can easily attach and remove depending on their application and need
• Reduce the number of regular CT dust extractor filter bags needed by handling high volumes of dust and debris with cyclone technology
• Maintains consistently high suction power by reducing the dust load on the main filter
• Highly portable – compatible with all CT Dust Extractors and Systainers, CT CYCLONE is a stackable collection container with compact dimensions and a sturdy design