Posted October 14, 2020
Festool USA to launch premium hand tool line
Festool USA's new Limited-Edition Installation Kit will arrive at Festool dealer locations Nov. 17, delivering a solution for organizing and transporting hand tools.
---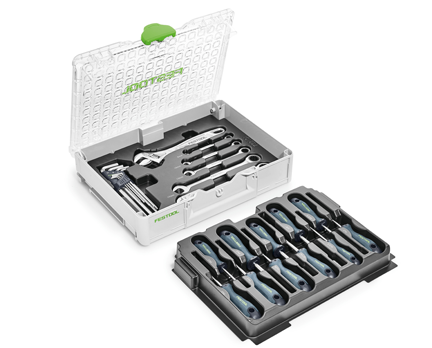 The tools in the new kit are positioned inside labeled, easy-to-read organizer trays to ensure tools remain easily accessible. The Installation Kit, situated in the latest generation of Festool systainer organizers, comes equipped with a see- through lid and is stackable with other Festool systainers for efficient tool transportation.
The new kits are packed with five categories of tools in a range of fixed and adjustable sizes. The components of the Installation Kit consist of an adjustable wrench, ratcheting combination wrenches, screwdrivers, nut drivers, and a hex key set with a holder. The tools are available as either an Imperial or a Metric set. Each will cost $225.
"Festool has long been recognized as a best-in-class manufacturer of power tools, and our customers will find that same premium quality and innovation in these hand tools and the organizational system included in the new Installation Kit," stated Rick Bush, VP of marketing for Festool. "With our deep knowledge of the jobsite, Festool was able to design the Installation Kit so installers can always find the right tool for the job at hand. No more wasting time digging through a messy tool bag."
Included in Festool's new, Limited-Edition Imperial Installation Kit:
• Adjustable wrench (maximum opening of 1-5/16")
• 5x Ratcheting Combination Wrenches (1/4", 5/16", 3/8", 7/16", 1/2")
• 8x Screwdrivers (Ph1, Ph2, Ph3, Sq2, Pz2, Tx 25, Slotted 1/8", Slotted 7/32")
• 3x Nut Drivers (1/4", 5/16", 3/8")
• Hex Key Set with holder (5/64", 3/32", 1/8", 5/32", 3/16", 7/32", 1/4", 5/16")
Included in Festool's new, Limited-Edition Metric Installation Kit:
• Adjustable wrench (maximum opening of 34 mm)
• 5x Ratcheting Combination Wrenches (8, 10, 13, 17, 19 mm)
• 8x Screwdrivers (Ph1, Ph2, Ph3, Sq2, Pz2, Tx 25, Slotted 3.5 mm, Slotted 5.5 mm)
• 3x Nut Drivers (1/4", 5/16", 3/8")
• Hex Key Set with holder (Metric set: 2, 2.5, 3, 4, 5, 6, 8, 10 mm)