Flexaust ventilation blower hose
Flexaust offers a line of lightweight, durable, and highly compressible blower hose that can be custom color matched to meet precise OEM product branding requirements.
---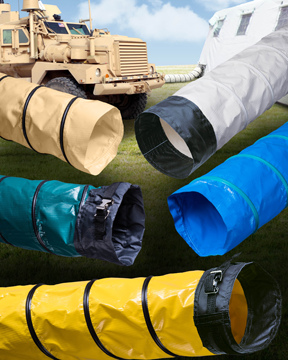 Flexaust Springflex FSP-5 Ventilation Hose is a single-ply PVC vinyl coated polyester fabric hose that is reinforced with a spring steel wire helix and an external PVC wearstrip. Developed for positive airflow applications such as temporary heat and air conditioning, this hose is listed as UL 94V-0 flame retardant and can be custom made to match the color of OEM equipment.
Featuring up to an 11:1 compression ratio for easy storage and transport, depending upon size, Flexaust Springflex FSP-5 Ventilation Hose is offered from 8" to 60" dia., with or without belted cuffs and nylon ring connectors, and meets NFPA-701 standards. This duct operates from -20°F to 180°F and also comes standard in yellow with a black wearstrip in various lengths.