GOJO EcoPreferred Pumice hand cleaner
GOJO Industries launched its new GOJO ECOPREFERRED Pumice Hand Cleaner, the first green certified product in the GOJO Tough Soils portfolio.
---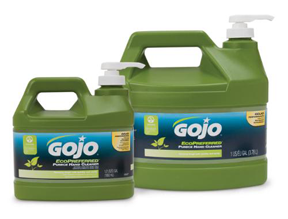 The innovative pumice hand cleaner quickly and effectively cleans medium to heavy soils and conditions hardworking hands.
Developed for those who work in oil, grease and other medium to heavy soils, GOJO ECOPREFERRED Pumice Hand Cleaner delivers GOJO cleaning performance and environmental credibility by achieving UL's ECOLOGO Certification.
ECOLOGO Certification is awarded to products that demonstrate both effective performance compared to traditional products on the market and environmental leadership based on the product's proven ability to meet or exceed strict third party standards for a range of human health and environmental impacts.
GOJO ECOPREFERRED Pumice Hand Cleaner is also a USDA Certified Biobased product with an 85% biobased formulation. To qualify for USDA BioPreferred Program's certification, hand cleaners must have a minimum of 64% biobased content. Certified biobased, as recognized by the Department of Agriculture, is a measurement of a product's 'new' carbon content relative to its overall carbon content. New carbon is derived from plants and other renewable agricultural, marine, and forestry materials. Fossil carbon is derived from petroleum (oil). The presence of new carbon can be one important attribute in a product's overall environmental sustainability.
"We congratulate GOJO on achieving USDA biobased certification for this new hand cleaner," said Kate Lewis, Deputy Program Manager of the USDA BioPreferred Program. "Their investment into biobased as a product attribute decreases our Nation's reliance on petroleum, increases the value of agriculture commodities, and moves us all toward the new bioeconomy."