Posted August 28, 2019
Gardner Denver enhances rotary van compressors
Gardner Denver announced enhancements to its 2-10 hp V/VR Series of rotary vane compressors.
---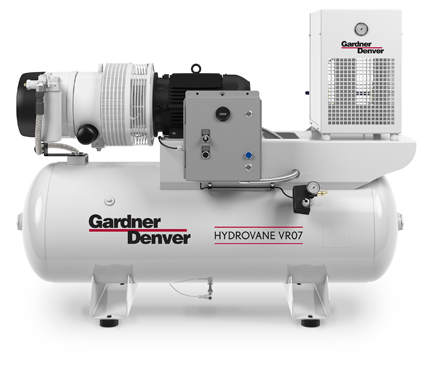 These fixed speed, direct drive rotary vane compressors are designed for customers that operate at 100 percent duty cycle, but have outgrown a reciprocating compressor or have a low noise requirement. When compared to a rotary screw compressor, a rotary vane unit is less complex, has a lower price point and often times has a smaller footprint.
An addition to the V/VR Series is the 5, 7.5 and 10 hp hypac. The hypac is a complete air system in one package incorporating a tank mounted V/VR Series lubricated rotary vane compressor and a refrigerated air dryer to better treat the air before releasing it to the plant supply. Each horsepower size hypac is available with an 80, 120 or 240 gallon wet tank equipped with a drain as standard. The hypac is a true plug-and-play compressed air solution at a great value price.
In addition to the new hypac offering, Gardner Denver has also made a variety of enhancements to its popular 5-10hp V/VR Series simplex packages. The new version of these robust packages include:
• New control panel furnished with a hands-off auto selector switch, hour meter, and pressure switch
• Improved cable routing for cleaner appearance
• Re-designed feet allows for easier access for cleaning and wider, more sturdy stance
• Over-braided stainless steel hose from discharge to the receiver tank for easier service
• Integrated motor support bracket
Compressor/motor packages (2-60 hp), tripod packages (2 hp) and duplex packages (5-10 hp) are also offered in the V/VR Series line of compressors.