Wheelz Safety Goggles provide anti-fog features
Top complaints from workers wearing safety eyewear frequently center around fogging.
---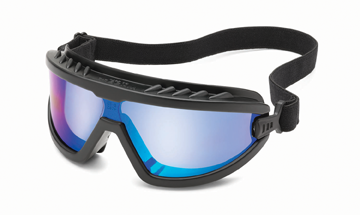 Wheelz goggles by Gateway Safety were designed specifically to fight fogging with a unique Whirlwind ventilation system, which circulates air through the inner frame area between the face and lens. Ten vents along the frame's brow area and 10 additional vents on the frame's underside create a strong "whirlwind" of air that helps clear the fog and maintain unhindered vision at all times.
Fogging, the result of condensation building up on the inside or outside of the lens, can be caused by a sudden change in air temperature or a constantly humid, hot, or cold work environment. For additional fog prevention, Wheelz comes available with an anti-fog coating in several lens options, including clear, gray, silver mirror and gray mirror.
"In these colder temperatures for much of the U.S., many workers are experiencing fogging of their safety eyewear because they move between indoor and outdoor environments," said Matthew Love, Gateway Safety vice president. "Wheelz goggles are a perfect anti-fog solution, that also provide impact and splash protection."
Unlike big and bulky traditional goggles, Wheelz has a compact and lightweight frame made of a soft, flexible material for all-day comfort. An elastic head strap easily adjusts to ensure a safe, snug fit. Plus, Available with or without foam, Wheelz eyewear is independently tested and certified by Underwriters Laboratories to meet ANSI Z87.1+ and CSA Z94.3 standards.