Gateway Safety Wheelz safety goggles
Many workers braving the cold and snow this winter need more than warm clothing.
---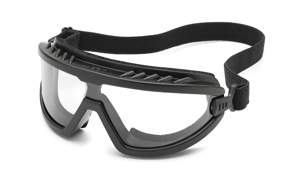 They need personal protective equipment that protects both from hazards on the job and the harsh conditions that accompany the cold winter months, such as frigid temperatures, strong winds, and even harsh glare. Eye protection is no exception. Gateway Safety's Wheelz safety goggles offer several "cold-weather-friendly" features that make them a popular eye protection choice for outdoor workers in colder climates.
Cold weather brings the possibility of lens fogging, the most common eyewear-related winter-weather hazard reported by outdoor employees*. Wheelz goggles include a unique Whirlwind™ ventilation system, with 10 vents along the frame's brow area and 10 additional vents on the frame's underside, to circulate air through the inner frame area between the face and lens. The resultant strong "whirlwind" of air helps clear the fog and maintain unhindered vision at all times. For additional fog prevention, an anti-fog coating is also available.
Wheelz are unlike big and bulky traditional goggle styles. Their compact and lightweight frame is made of a soft, flexible material for all-day comfort. Wheelz goggles also feature an optional soft foam lining that not only helps with comfort, but also prevents snow and debris from blowing into the eyes. Additionally, mirrored-lens options help fight the glare that is often reflected from snow-covered surfaces.
While several features help specifically in the outdoor cold, Wheelz safety goggles provide serious impact protection at all times. They are independently certified by Underwriters Laboratories to meet ANSI Z87+ and CSA Z94.3 standards.