Gateway Safety Temple Technology safety eyewear
Gateway Safety introduced Temple Technology safety eyewear, a collection of safety products engineered to fit users much more comfortably.
---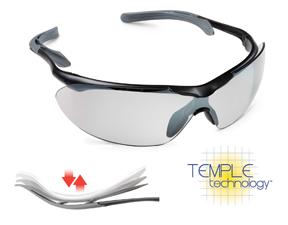 Temple Technology products feature unique temple qualities that eliminate pinching while fitting securely, ultimately creating eye protection that people will truly enjoy wearing.
The Temple Technology umbrella includes three distinct safety eyewear products: Luminary, Flight and Parallax safety glasses. Each product has a unique temple feature that relieves pinching and pressure on the head and ears. The most recent product to hit the market, Parallax safety eyewear, features a patented, dual-component temple design that helps the temple softly flex against the ear and head. A one-piece polycarbonate lens and top brow guard help provide wraparound coverage, and a soft nosepiece helps keep the glasses from slipping.
"We are very excited to provide these groundbreaking products as part of the Temple Technology line," said Gateway Safety Vice President Matthew Love. "Comfort has been shown to be a key factor in the regular and continued use of protective eyewear. We aim to raise the bar on comfort in safety eyewear, thus helping employers increase compliance and reduce workplace eye injuries."
Weighing just four-fifths of an ounce, Gateway Safety's Luminary safety eyewear is one of the most lightweight safety glasses on the market. Plus its ultra-flexible temples self-adjust to accommodate nearly any size head, relieving pressure behind the ears. A rubberized coating on the temples as well as a "fingertip" nosepiece prevent slipping to help ensure a snug fit.
The Temple Technology eyewear line also includes Flight safety eyewear, which includes a revolutionary design with unique, patented temple "wings" to cushion the head and relieve pressure. In addition to its engineered comfort, Flight has a unique floating lens design that allows air to flow between the frame and the lens, helping to fight lens fogging.
All three products in the Temple Technology family provide serious protection. They are certified by Underwriters Laboratories to meet ANSI Z87.1+ and CSA Z94.3. These safety glasses also meet the ballistic impact resistance requirements for eyewear as per U.S. military performance specification MIL PRF-31013, and provide 99.9% protection against UV-A, B & C light.