Conqueror MAG by Gateway Safety
Conqueror MAG by Gateway Safety is a bifocal safety eyewear solution in a design that end users find stylish and ultra comfortable.
---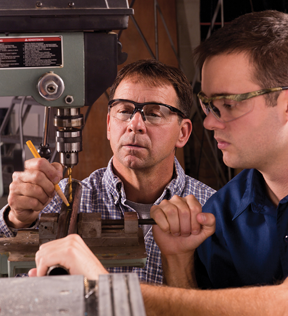 Conqueror MAG is designed for those required to wear eye protection, but who have trouble focusing on small things close up—such as blueprints, schematics, small parts, equipment settings, tools, and more.
"The original Conqueror safety eyewear, first introduced in 2011, became so popular so quickly that we decided soon after to launch Conqueror MAG to fill the need for those looking for a bifocal solution," said Matthew Love, Gateway Safety Vice President. "It is no secret that as we age, our eyesight deteriorates, and the demand for bifocal eye protection in the workplace is growing at a fast pace."
Highlighted by an attractive contemporary design, Gateway Safety's Conqueror® safety eyewear has been found to be more comfortable and more cost effective than industry alternatives. Conqueror eyewear features a soft rubber nosepiece and ergonomic, contoured temple tips that don't pinch—ensuring all-day wearability with no slipping. The addition of bifocal magnification to Conqueror reduces the inherent risk of switching between regular safety glasses and reading glasses, a dangerous necessity that could result in errors and eye injuries.
Available in five diopter strengths from 1.0 to 3.0, Conqueror MAG, like all Gateway Safety glasses, shields workers from daily impact hazards. Its durable, one-piece polycarbonate wraparound lens meets and exceeds ANSI Z87.1+ and CSA Z94.3 standards. Conqueror MAG is available in Clear and Gray lens styles (Gray in 1.5, 2.0 and 2.5 diopters only). Each pair also comes with a free breakaway retainer.