Gateway GirlzGear
GirlzGear is feminine, fitted, and designed specifically to keep women safe on the job site.
---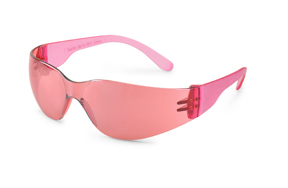 When it comes to safety equipment, one size does not fit all. According to NAWIC (National Association for Women in Construction), approximately one million of the construction industry's employees are female; and their safety depends on equipment that not only protects them, but also fits comfortably and is styled to encourage compliance. That's why Gateway Safety's GirlzGear line of safety products has been an important addition to the safety product industry.
The line is comprised of select pieces from the company's protective eyewear and safety helmet collections. All GirlzGear eyewear meets the ANSI Z87.1+ high-impact standard, and the helmets, in turn, meet the ANSI Z89.1 impact standard.
GirlzGear safety glasses are sized 10 percent smaller than Gateway's traditional models, providing a more comfortable fit for narrower faces. Smaller in size but still strong in style options, all protective eyewear in the GirlzGear product family features a variety of lens and frame color combinations. Choose from many of the company's popular brands, including StarLite SM, available with the favored pink mirror and pink temple styles; StarLite SM Gumballs, with 10 unique temple colors in a box; Scorpion SM, loaded with features; and Metro, which has frame options in pink as well as tortoiseshell.
The Serpent safety helmet, which is exceptionally lightweight and comfortable, rounds out the GirlzGear collection. Serpent slips on with ease and boasts a rotating ratchet adjustment system for a comfortable, customized fit. Pin-lock adjustment is also available. And the popular protective headwear comes in tough-girl pink along with 10 other punchy colors, so it's just as stylish as it is safe.