Gateway Safety Cyclone Safety Goggles
Gateway Safety's Cyclone, one of the industry's only impact-to-splash goggles, offers two safety solutions and one great value.
---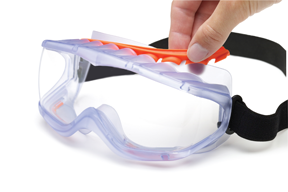 First, users can wear the dual-use goggle as Cyclone Impact, featuring a strong polycarbonate lens surrounded by a sturdy vinyl frame. Then, users can add the optional, patented Double-Take inserts — the secret behind the easy impact-to-splash conversion. When the Double-Take inserts are added at the top and bottom of the goggle frame, Cyclone Impact becomes Cyclone Splash, a highly effective impact-plus-splash goggle. This two-in-one solution offers convenience for workers who require both types of goggles during one day or shift, as well as great savings for employers.
Another Gateway Safety innovation — their patented Whirlwind anti-fog ventilation system — helps prevent or reduce fogging when Cyclone is used as an impact goggle only. According to industry experts, goggles can present a greater concern for fogging than regular safety glasses because their snug fit may reduce ventilation. However, the movement of air within safety eyewear can help to lower the temperature and evaporate humidity, reducing the fogging risk.
The Whirlwind anti-fog system not only reduces the risk of fogging but also improves user comfort. Ten unique, conical air intake chambers open to the user's brow, and ten additional ventilation ports line the underside of the frame, where secondary air enters the goggle. These openings create a "whirlwind" of air, which circulates through the inner frame and helps reduce fogging.
As if that weren't enough, Cyclone's cool styling and lightweight design encourage compliance, even for those who wear prescription eyewear. An adjustable headband ensures a comfortable yet secure fit. And, of course, Cyclone safety goggles provide serious impact protection at all times. Cyclone meets ANSI Z87.1+ and CSA Z94.3 impact standards.