Posted July 17, 2017
GearWrench X-Core Pinless Impact Universal Joints
GearWrench announced its new X-Core Pinless Impact Universal Joints.
---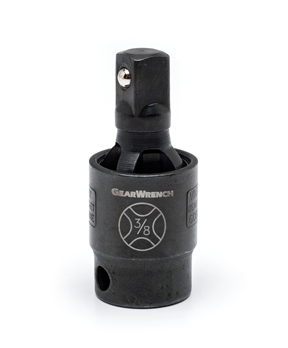 The pinless socket design offers exceptional strength, durability, and value.
The exclusive X-Core Pinless four-lug ball-and-socket design provides increased durability, speed, and strength, allowing automotive technicians and industrial mechanics to quickly remove stubborn fasteners, even in the most cramped spaces. The design provides smoother operation for longer life and allows a 30-degree off-center operating angle for superior access in tight spots.
The new X-Core Pinless impact universal joints all feature:
• Chrome Molybdenum Construction
• Hard Stamped Size Markings
• Ball-Detent Socket Retention
• Corrosion Resistant Black-Oxide Coating
• Turned up socket base for easy grip when changing
"Our new X-Core Pinless impact universal joints represent the ultimate in strength and durability," said James Stewart, senior product manager. "The life of these tools is exceptional and the greater operating angle will get end users out of trouble time and time again."
• Cat. No. 84180 – X-Core Pinless™ 1/4" Drive Impact Universal Joint
• Cat. No. 84440 – X-Core Pinless™ 3/8" Drive Impact Universal Joint
• Cat. No. 84715 – X-Core Pinless™ 1/2" Drive Impact Universal Joint
• Cat. No. 84960 – X-Core Pinless™ 3-Piece Impact Universal Joint Set (1/4", 3/8", and 1/2" Drive Sizes) in vacuum formed storage tray