Posted February 14, 2018
General Equipment FCS16 Gen 3 Rip-R-Stripper
General Equipment Company introduced the new FCS16 Gen 3 Rip-R-Stripper.
---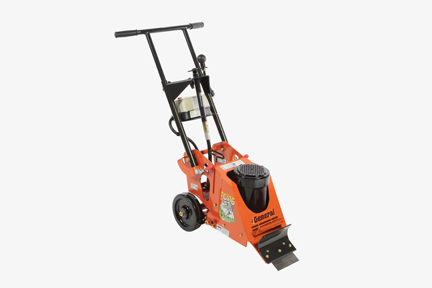 Enhancing the proven design and effectiveness of the previous FCS16 model, the Gen 3 unit features an advanced blade clamping system, improved centralized lubrication, quick-release operator handles and integrated static weights to maximize productivity when removing VCT tiles, rubber-backed carpeting and other sheet-type coverings from wood and concrete surfaces.
The FCS16 Gen 3 is powered by a quiet ¾-horsepower, 115/230 VAC, 60-Hertz electric motor and offers a maximum cutting width of 16 inches. An exciter plate with improved armature design is mounted directly to the driveshaft creating powerful random-orbit action for maximum effectiveness in driving the stripping blade repeatedly under the material to be removed. The improved centralized lubrication system now also lubricates the armature bearings to help keep them in perfect alignment, further increasing service life.
Whereas the previous model could be combined with external weights to increase downforce on the blade, the new unit includes integral, 16-pound concealed static weights to better address tough residues and increase overall removal rates. This is a much more convenient design and helps eliminate the chance for lost parts.